Whether you like a calm pint while watching the home team or a raucous night out with friends to get into international events, you'll want to have a list of the top sports bars in Dubai on hand.
These places have several televisions for watching your favorite sporting events. They also provide great pub food and cheap beverages to satisfy any craving. Get yourself ready to see all the best sports bars in Dubai.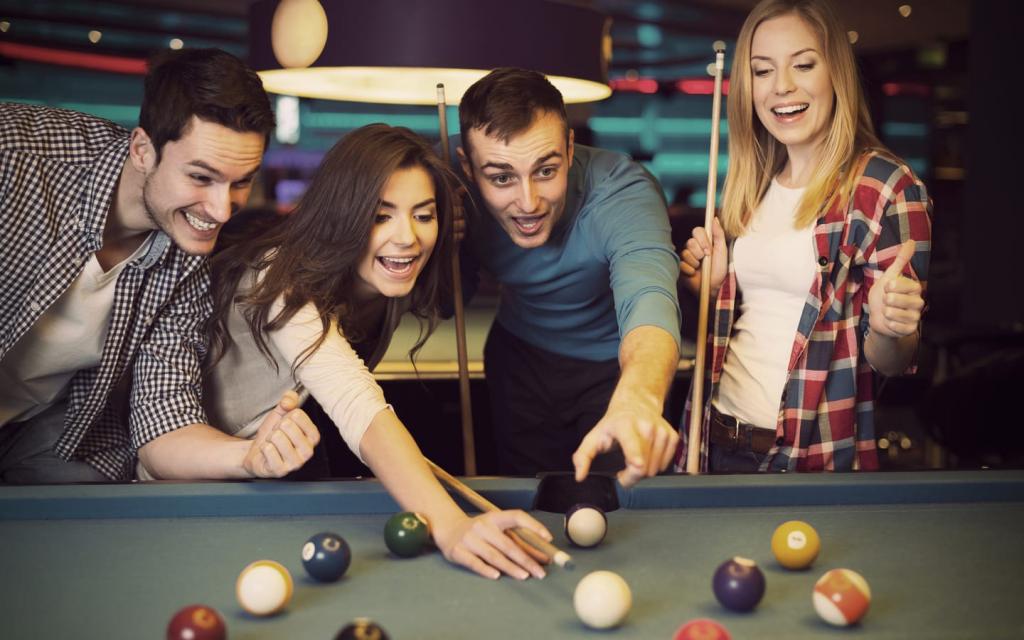 Top sports bars in Dubai
You will be spoiled for choice, in classic Dubai style, when it comes to picking the top sports bars in Dubai. We've compiled a list of the best sports bars in Dubai so you won't miss a minute of the action.
1. The Underground sports bar in Dubai
Visitors to the pub may be surprised to learn that the employees are stuck inside a wrecked London Underground 1996 Rolling Stock. It doesn't matter; all of this was predetermined. The bar's inside is mainly red bricks and dark wood, making it seem like it might be a station on the London subway.
If you're a fan of Arsenal, Harlequins, or any other London-based club, you'll love this bar, since it was inspired by one of London's most prominent engineering fetes. This is why the arena is always packed with Liverpool supporters.
Location: Al Falea Street, Jumeirah Beach – Dubai – United Arab Emirates
Timing: 12 PM–3 AM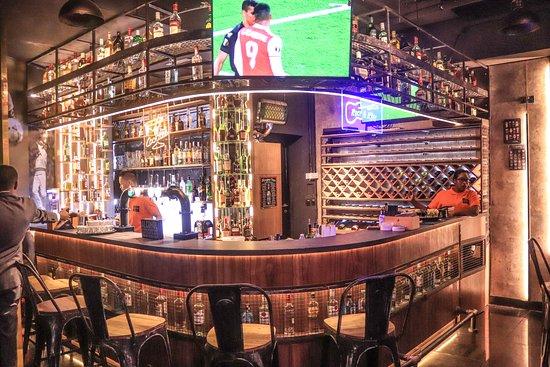 2. Barasti sports bar in Dubai
Both residents and visitors enjoy the vibrant atmosphere and delicious meals at Barasti Beach Bar. The platform's coastal location affords visitors a breathtaking panorama of Dubai's skyscrapers and the shimmering blue Arabian Sea.
While the live band upstairs creates a soothing ambiance, the club's permanent DJs keep the party going below. There is little doubt that this renowned pub has become integral to Dubai's social scene. However, despite its many screens and regular deals, Barasti is not primarily a sports bar. The is considered to be among the best beach clubs in Dubai.
Location: Le Meridien Mina Syahi Beach Resort & Marina – Dubai Marina
Timing: 9 AM–1 AM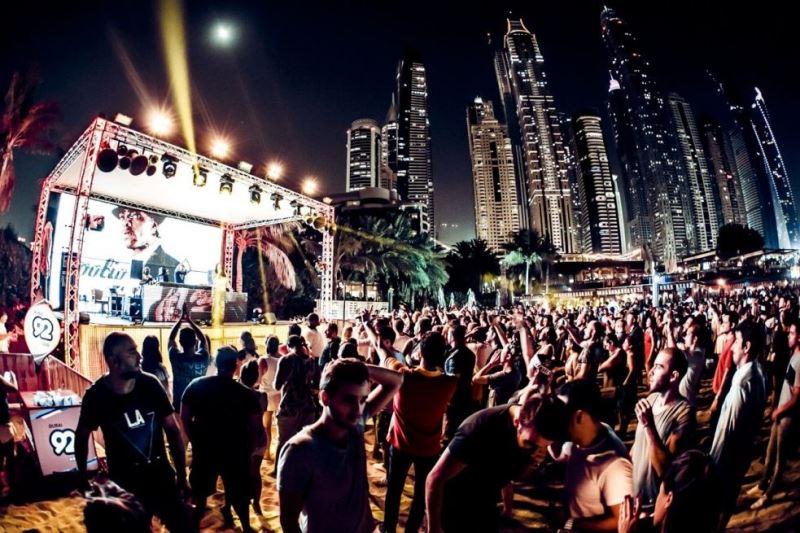 3. McGettigan's sports bar in Dubai
While McGettigan's isn't a chain of exclusively sports pubs, they know their way around offside rules and conversions. The popular Irish chain is an excellent place to watch live sports, notably rugby and Premier League football. First of all, if the Six-Nations is on, it's recommended that you wear green.
McGettigan's has a great vibe since most of its customers are Irish, who are the friendliest people in the world. So, if you're going out to watch rugby or GAA, you can end yourself staying out too late. Aside from being one of the best places in Dubai to celebrate St. Patrick's Day, McGettigan's is also a great sports bar and a favorite weekend hangout.
Location: Next to Bonnington – Jumeirah Lake Towers – Dubai
Timing: 12 PM–3 AM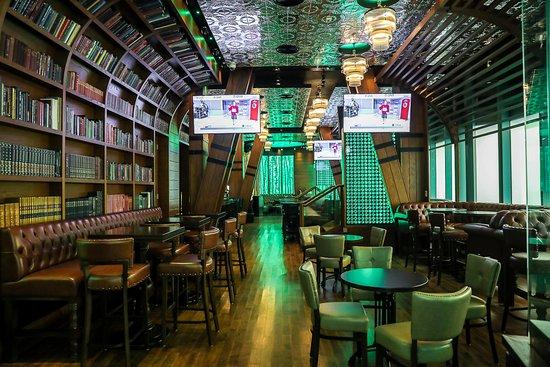 4. Icon sports bar in Dubai
As the new season begins, Icon Bar and Lounge in Dubai Media City has reopened with a fresh new appearance. The two-story bar has 26 TVs for passionate sports fans to watch the game.
Downstairs, there's a garden-themed playroom perfect for kids. The after-work crowd may unwind with a drink or two in the upstairs lounge. The breakfast menu is now available on the weekends from 8 am to 12 pm, and the whole menu has been reworked. Also, if you want to play games in cafe, we suggest you to go to the best board game cafes in Dubai.
Location: Icon Bar and Lounge, Radisson Blu Hotel, Dubai Media City
Timing: 12 PM–3 AM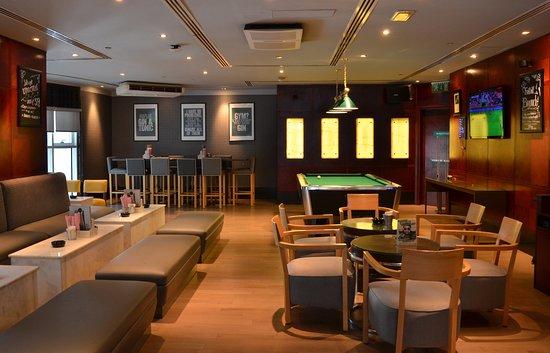 5. Crown and Lion sports bar in Dubai
British sports fans looking for a relaxing pub experience can't do better than the Crown and Lion. If you're looking out of place in your team's jersey, don't worry; the wood paneling and natural aromas will help you blend right in.
The Crown and Lion have a terrific "pubby" atmosphere with plenty of TVs and chairs. There is plenty of space for people to stand during big sports events, making it seem almost like a living room.
Location: Ground Floor – Byblos Hotel Barsha Heights – Barsha Heights – Dubai
Timing: 11 AM–3 AM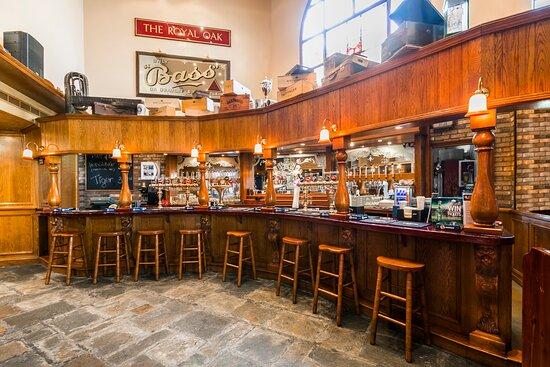 6. Headlines sports bar in Dubai
If you're looking for cheap sports bars in Dubai, your best bet is to go to In the news on Sheikh Zayed Street. You'll see flags and jerseys from many sports teams draped around the ceiling and walls of the bar if you visit.
Thanks to its colorful decor and plethora of TV screens, this is one of the most exciting spots in Dubai to see a game. While you're there, you should try some of the region's famous Indian dishes. This restaurant is among the best Indian restaurants in Dubai.
Location: Dubai World Trade Centre – Ibis Hotel Lobby – Dubai
Timing: 5 PM–3 AM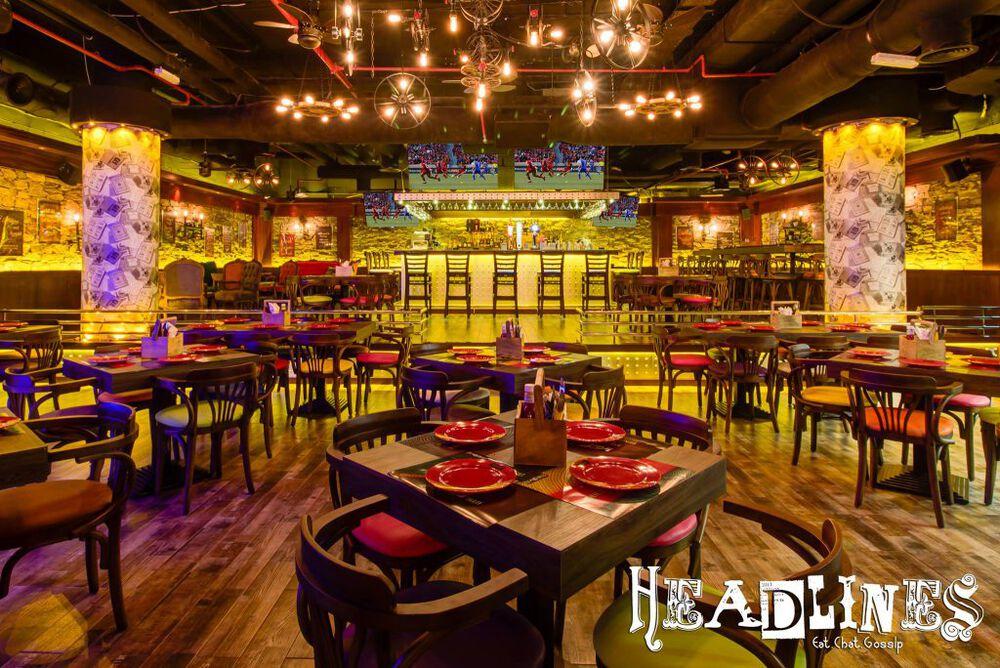 7. The Locker Room sports bar in Dubai
There are plenty of watering holes in Al Barsha with big screens for sports events, but the fact that we went to The Locker Room says a lot about how good it is. There are two pool tables and several available chairs. We lost count of the TVs on the walls, but that only means you can catch more than one game at once.
Since televisions are crammed into every available space on the wall, groups of fans may congregate in their own little enclaves. People may watch cricket or football on one screen while debating the outcome of a show on another, all thanks to the room's clever partitioning.
Location: Al Barsha – Al Barsha 1 – Dubai – United Arab Emirates
Timing: 1 PM–3 AM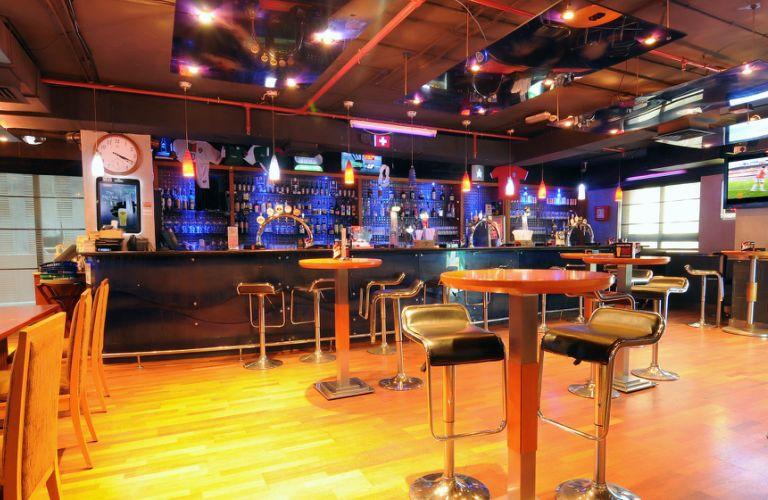 8. Fibber Magee's sports bar in Dubai
Fibber Magee's is your best bet if you're looking for the nearest and most busy bar. A little bit of Ireland in the form of barrels, toucan-themed wall art, and a stairway to nowhere can be found at this back alley tavern. Fibber's is the place to go if you want to watch sports as the locals do in Ireland.
Whether they are showing the Premier League, the IPL, rugby, or GAA, the games on Fibber have always been a big deal because of the venue's more personal atmosphere. At the very least, waiting in line for a drink will remind you of what a bustling Saturday in Dublin looks like and may help alleviate your homesickness.
Location: Saeed Tower 1 – Sheikh Zayed Rd – Trade Centre – Trade Centre 1 – Dubai
Timing: 8 AM–3 AM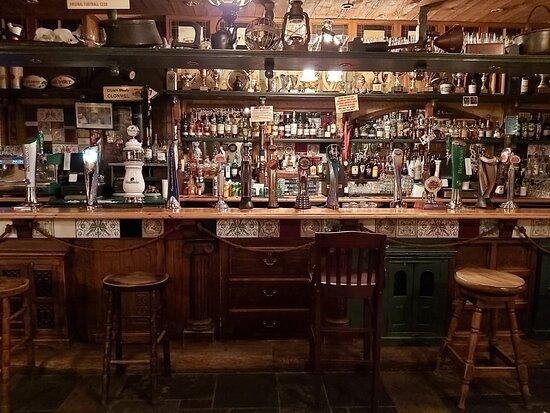 9. Distillery Gastropub sports bar in Dubai
You may taste the storied hipster culture of Dubai by visiting this gastropub after hours. Just a 10-minute stroll from both the Dubai Mall and the Burj Khalifa, Distillery is the perfect spot to meet up with friends for a lively lunch and a few drinks. True to its name, this establishment offers an impressive selection of handcrafted beers, unusual cocktails, and rare spirits.
If you're searching for a laid-back spot that regularly holds fun events like ladies' evenings, after-work happy hours, and weekend brunches, go no farther than Distillery. They also have a fantastic Late Brunch special every Saturday from 8:00 pm until 11:30 pm.
Location: Shop 01, Souk Al Manzil – Sheikh Mohammed bin Rashid Blvd – Dubai
Timing: 3 PM–3 AM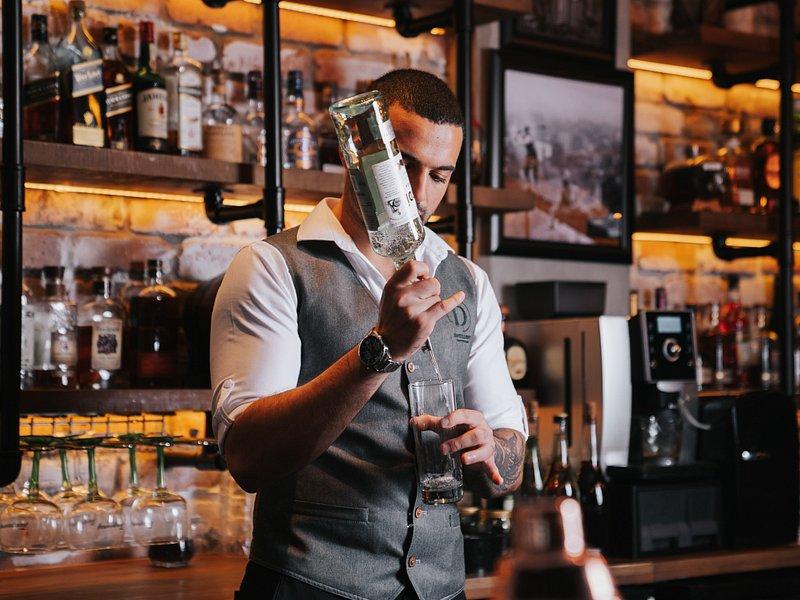 10. Harvesters sports bar in Dubai
In a nod to the traditional English "local," Harvesters Pub is home to the Manchester United UAE Supporters Club, making it a great place to see a game. Urban bars may not have the most legroom, but their cozy vibe makes watching sports seem more like hanging out with friends.
Seeing Manchester United fight for its honor with other Red Devils is the best possible atmosphere. It still appears stylish despite its ordinary size. Moreover, if you are a fan of bowling, you need to spend your time in the best bowling centers in Dubai.
Location: Crowne Plaza – Sheikh Zayed Rd – Trade Centre – Trade Centre 1
Timing: 12 PM–2 AM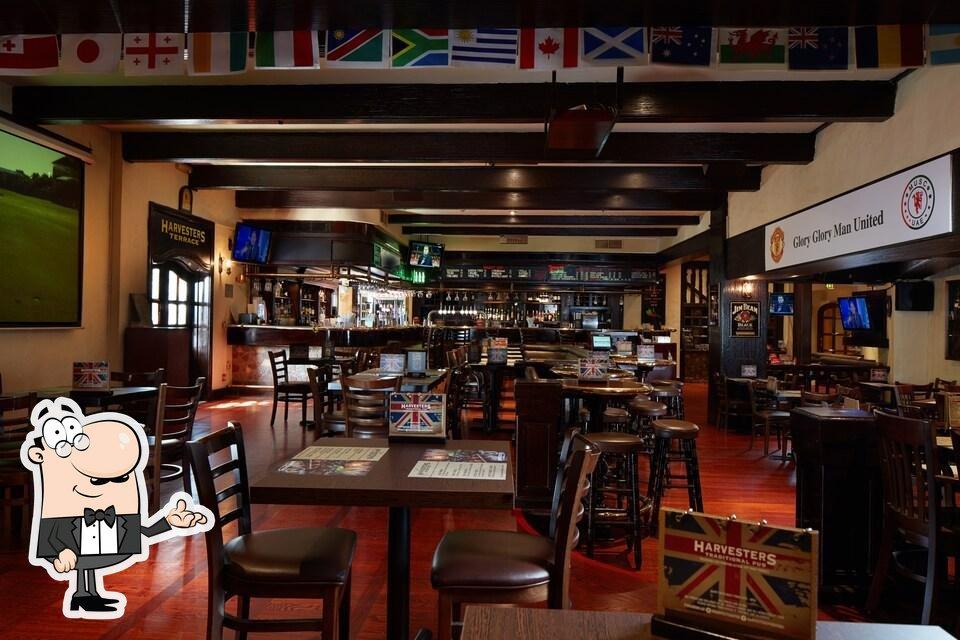 11. Double Decker Swissotel sports bar in Dubai
This British-themed bar voted best sports bar in central Dubai, is the best place to relax and feel at home with its decor inspired by the London Bus and Underground. The Double Decker is a popular watering hole for those seeking a place to watch sports events on the big screen.
You may get a Fire Alarm Burger, Buffalo wings, or their signature Mexican plate. There is both indoor and outdoor seating, making it a great place to enjoy great music, chat with new people, savor tasty beverages, and share joy and happiness.
Location: Swissôtel Al Murooj – Trade Centre – Dubai – United Arab Emirates
Timing: 12 PM–3 AM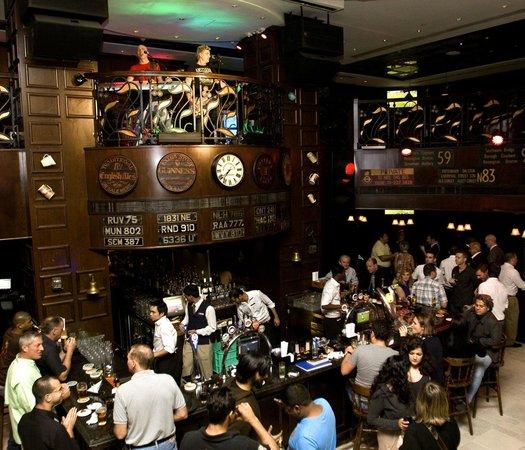 12. Brew House sports bar in Dubai
The Citymax Hotel in Dubai's Business Bay is home to Brew House, a rustic restaurant adorned with neon signs. In addition to serving up glamburgers, wood-fired pizzas, grilled fish and steak, and their renowned wood-smoked barbecue and comfort food, this American steakhouse and beer garden in Dubai also have live sports broadcasts, so you can see all the action while you eat.
Location: Al Amal Street, Plot no. 3460148 Behind Empower Business Bay
Timing: 12 PM–3 AM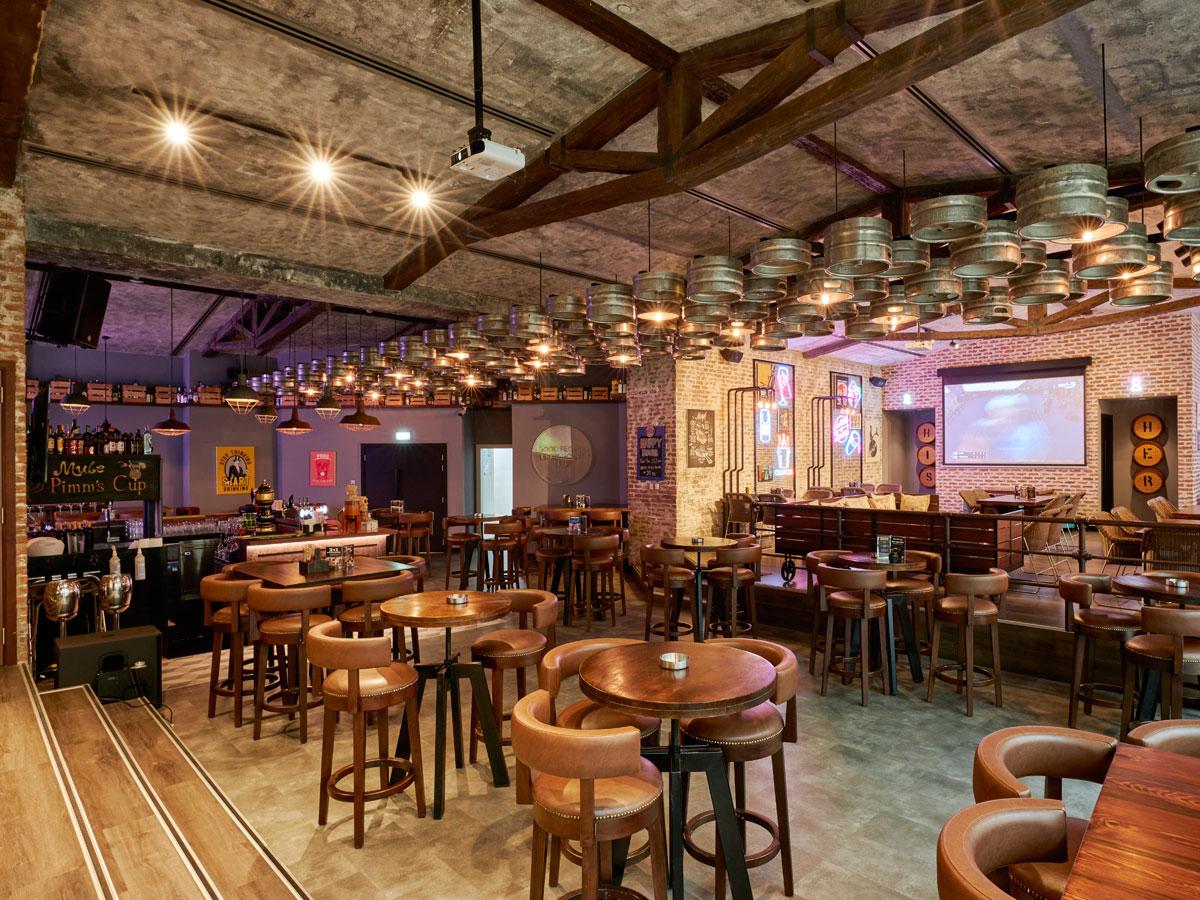 13. Quantum sports bar in Dubai
Live sports fans, hopping bags, and anyone who leans left economically will feel out of place at Quantum. The font at this bar is significantly more refined and polished than the norm. Vinyl ceiling tiles, Formica strips, and strip lights frame this silvery modern bar.
At Quantum, you can expect to find a considerably calmer ambiance, with sports viewing taking center stage rather than the boisterous shouting that is more often associated with such places. This is the place to go if you'd want to watch the game in a more upscale atmosphere.
Location: Melia Dubai Hotel – 23 Kuwait St – Bur Dubai – Port Rashid
Timing: 12 PM–3 AM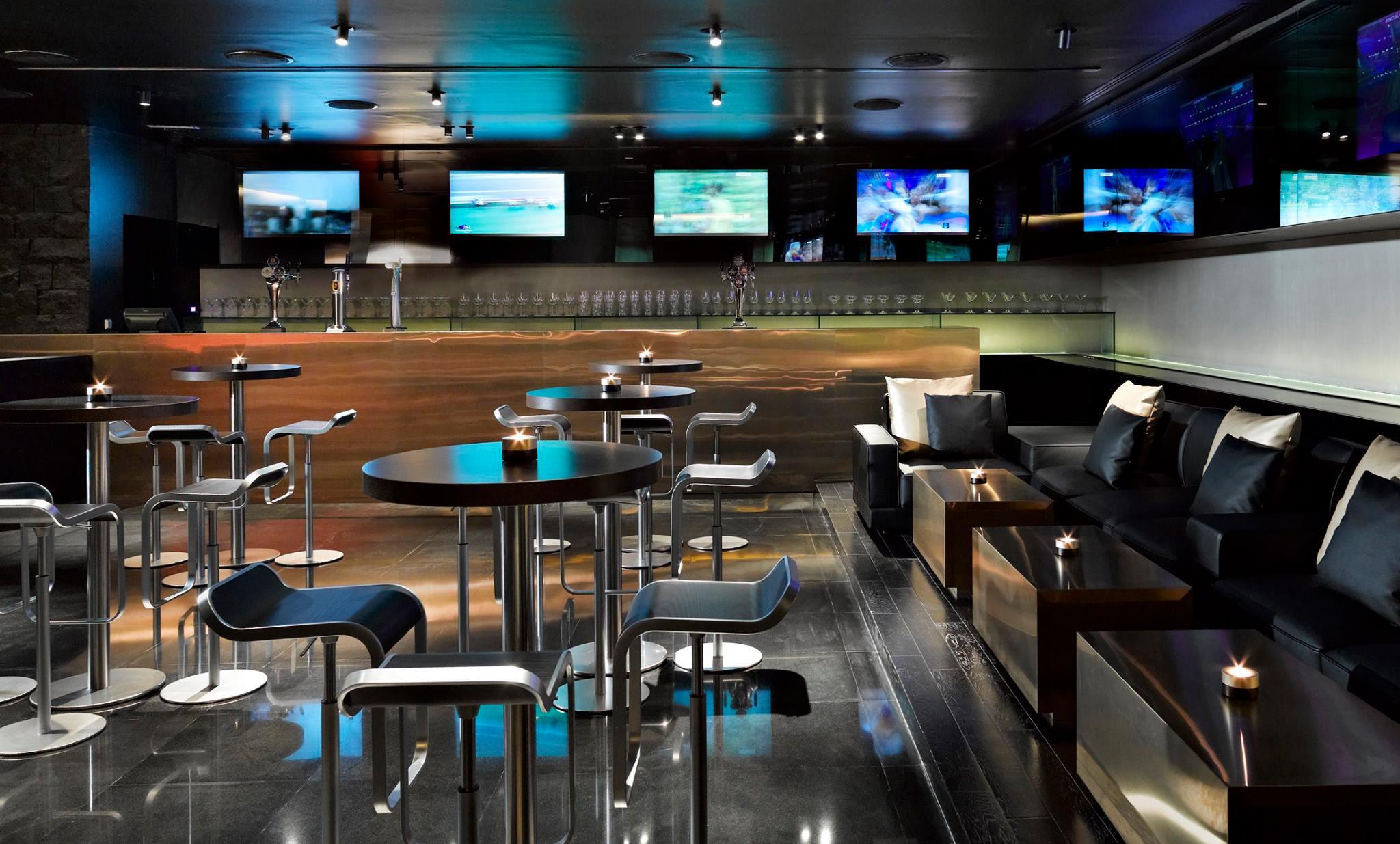 14. Girders sports bar in Dubai
Girders is an industrial-style sports bar located in JBR's JA Ocean View Hotel. This is intuitively sensible for several reasons. You can get some last-minute shopping done or get a bite to eat at one of the many best restaurants in Dubai, thanks to its convenient position at the end of The Walk.
Given the nature of the game and the teams competing, it might become rather intense. But if you're looking for a great place to watch a game, the Girders is your place. Despite being down 6-1 against Stoke City, you will remain calm thanks to the industrial design.
Location: Grosvenor House Dubai, Al Emreef Street – Dubai
Timing: 6 PM–1 AM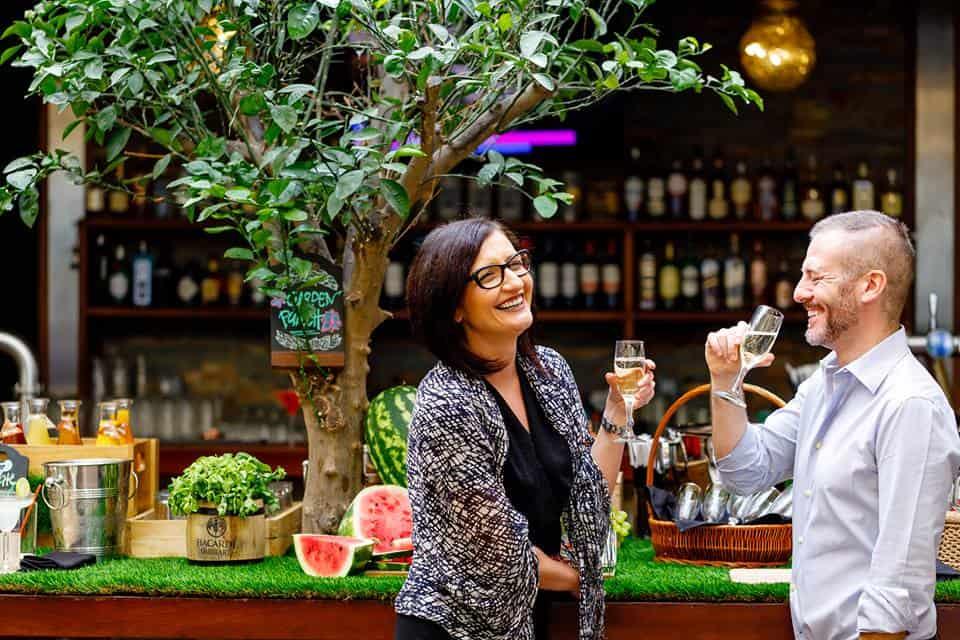 15. The Huddle Sports Bar & Grill in Dubai
While most pubs will have some kind of bar food available, only a select few can compete with The Huddle. Bur Dubai and Al Barsha are both big enough and have a lively enough ambiance to host major broadcasts. It's also relatively inexpensive.
The Huddle's bar is a favorite hangout for groups of friends because of its spacious, welcoming atmosphere. With so many displays available, it's easy to see each sport distinct. Everywhere you look, you can see football jerseys on the walls or the screens of televisions.
Location: Al Barsha – Al Barsha 1 – Duba
Timing: 12 PM–3 AM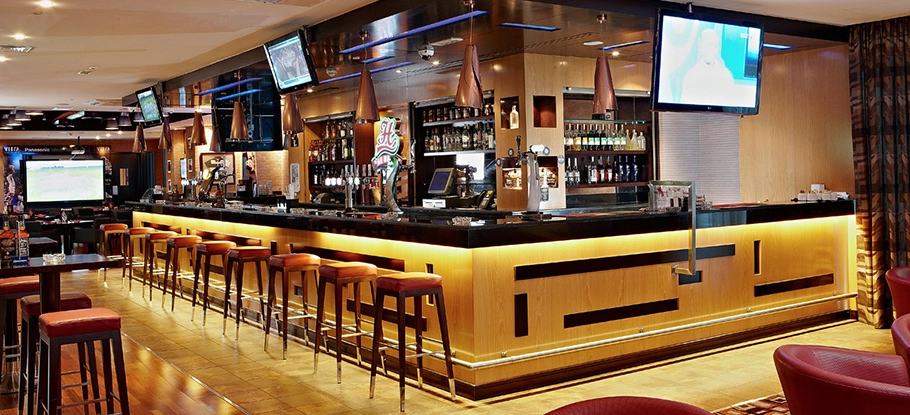 16. CLAW BBQ Crabshack and Grill sports bar in Dubai
With its lively environment and traditional American restaurant decor, CLAW BBQ feels like coming home. Everyone should stop by this popular cafe, which is well-known for serving delicious food.
Drinks are served in moonshine jars and pitchers, and there's a jukebox off to the side. Here you'll discover the city's greatest selection of tequila and beer and a wide selection of rum and other spirits. The CLAW Barn has a private gaming area and a bar with 50-inch TVs to see all the action from your favorite sporting events.
Location: Dubai Marina – Dubai – United Arab Emirates
Timing: 12 PM–2 AM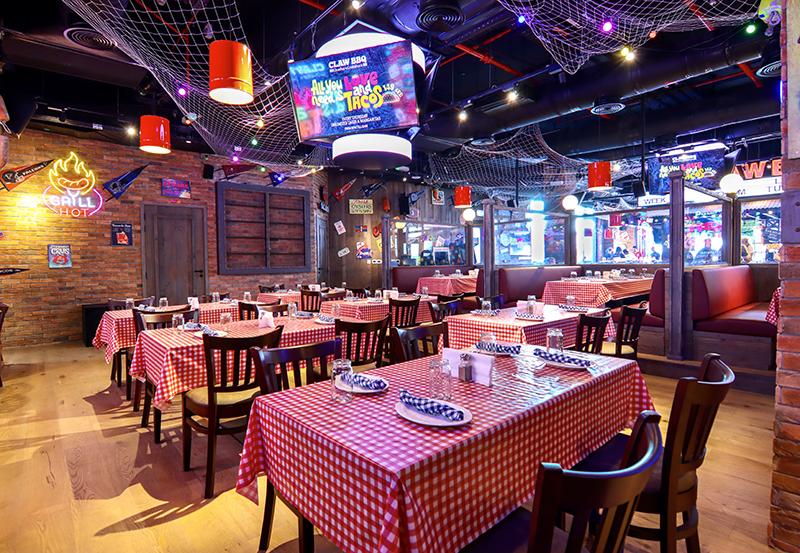 17. Kickers sports bar in Dubai
The delicious Texas Beef Brisket, Texas Toast, Jumbo Shrimp, Pork Ribs, Burgers, Hot Wings, and many more amazing meals at this popular restaurant make it a must-visit for everyone.
Kickers Sports Bar has become one of the best bars in Dubai and a popular destination for sports fans. With TVs lining almost every wall and a massive screen on the terrace, Kickers is a great pick for anybody wondering "where to watch football in Dubai." These flats in Dubai Sports City have a great reputation among the locals and the people who rent them for the friendly atmosphere and reasonable prices.
Location: Dubai Sports City – Dubai – United Arab Emirates
Timing: 1 PM–2 AM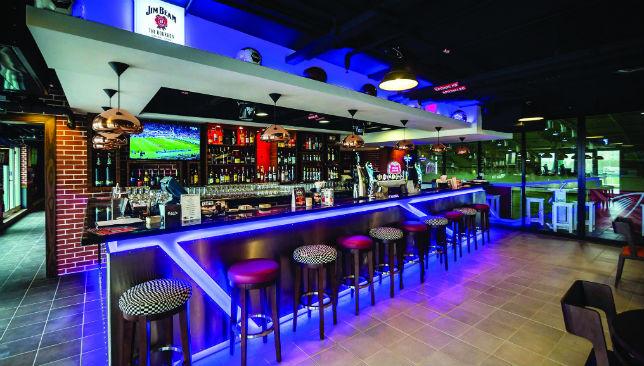 18. The Irish Village sports bar in Dubai
Popular on weekends, the Irish Village is known for its outdoor seating for football and other athletic events. As the temperature rises in the summer, they also set up a massive air-conditioned tent for sports fans to enjoy.
One of the best things about this Dubai facility is that it welcomes pets. Indoor and outdoor seating options are available to Irish Village diners. The lake, which is home to a few ducks, is visible from the outside seating area. We can say that this restaurant is one the best restaurants in Dubai where expats eat.
Location: Dubai Studio City – Dubai – United Arab Emirates
Timing: 11 AM–1 AM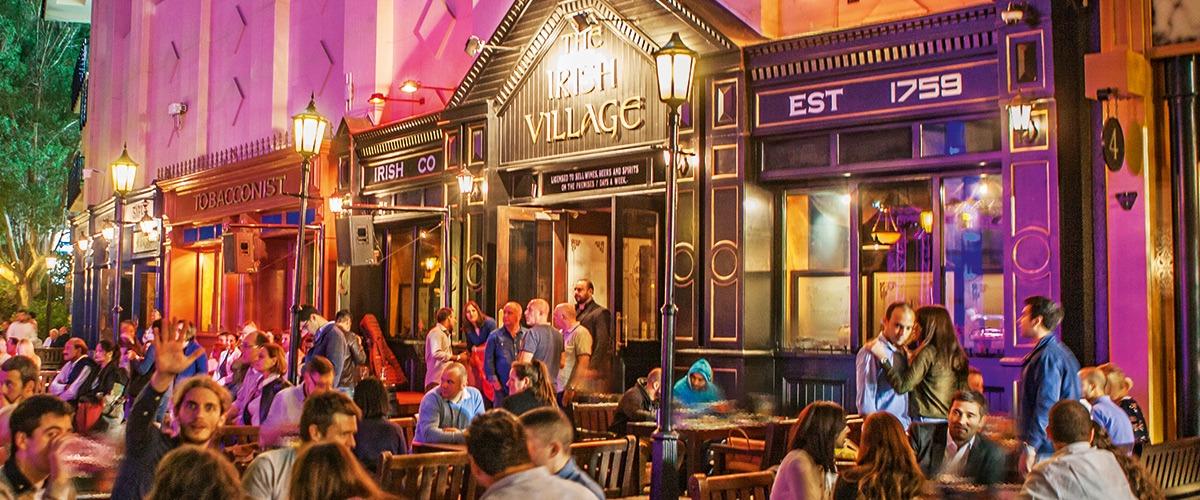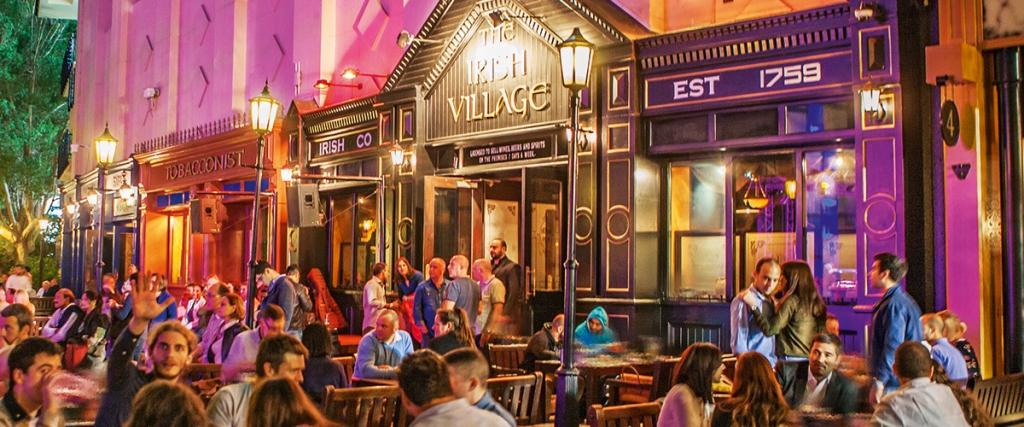 19. Trophy Room sports bar in Dubai
One of the most recent additions to the city's roster of sporting clubs is housed inside the posh Fairmont hotel on Sheikh Zayed Road. Its low-slung seating, open ceiling, and namesake trophy case give it a cool, hipster air.
Sports lovers in Dubai are flocking to this bar because it serves a wide variety of food and has one of the longest happy hours on Sheikh Zayed Road. In addition to the several large displays around the building, there is also a master screen comprised of nine smaller screens at one end.
Location: Lobby Level, Fairmont Dubai – Sheikh Zayed Rd – Dubai
Timing: 12 PM–2 AM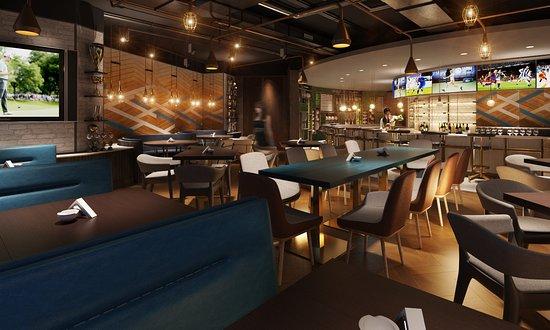 20. Stables / Rodeo Drive sports bar in Dubai
Stables is a popular hangout for Dubai residents on Friday and Saturday nights. It's one of the best sports bars in Dubai thanks to its huge TVs, warm atmosphere, and daily deals during happy hour.
If you're looking for a place to watch the World Cup on the big screen, Stables has you covered, whether you're a football or cricket fan. If Stables is very crowded, you may also go to the first level of the Rodeo Drive location. Not only can you watch the games on their TVs, but you can also ride their mechanical bull when the players take a break!
Location: Sheikh Zayed Rd – behind White swan Building – Trade Centre – Trade Centre 1
Timing: 6:01 PM–3 AM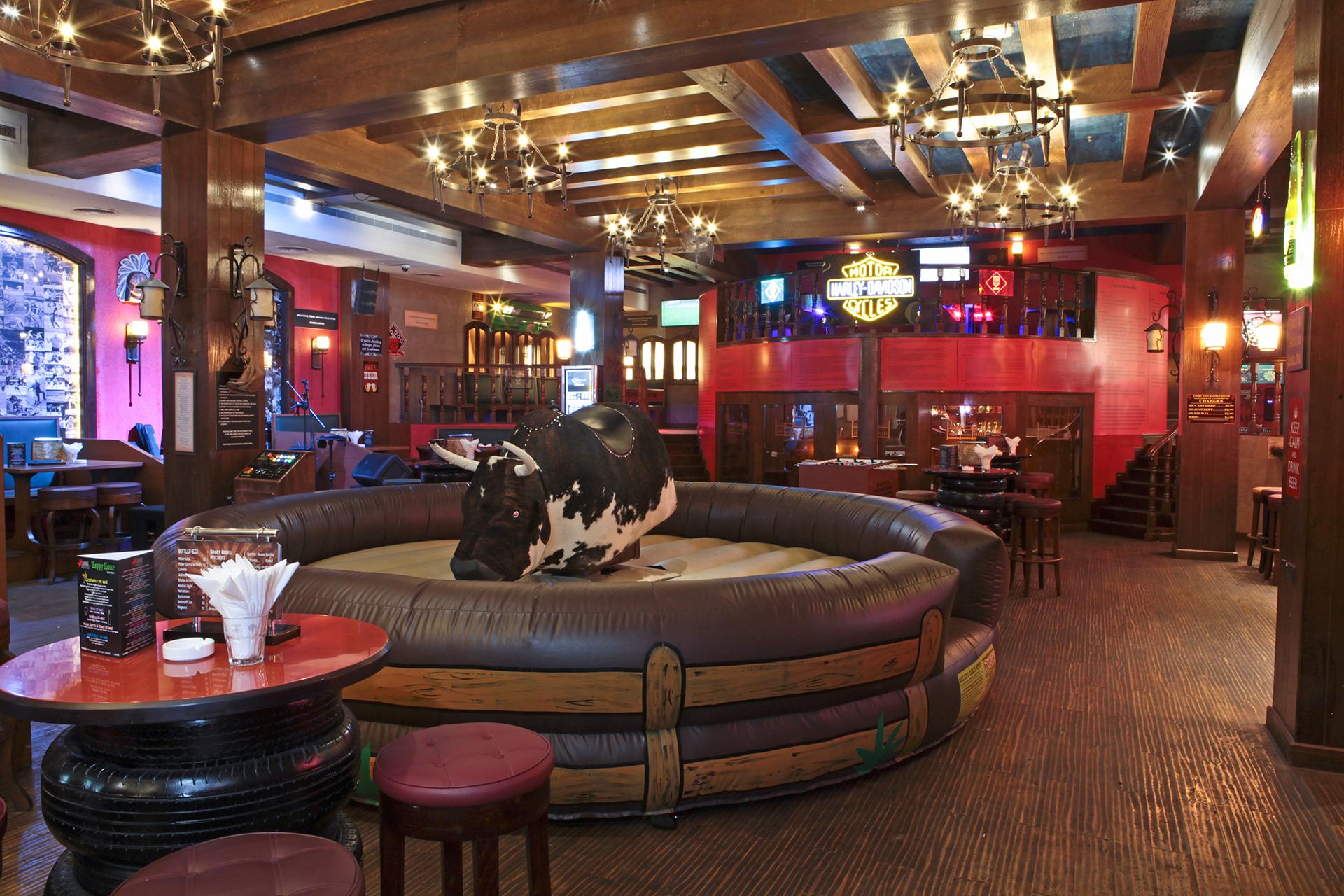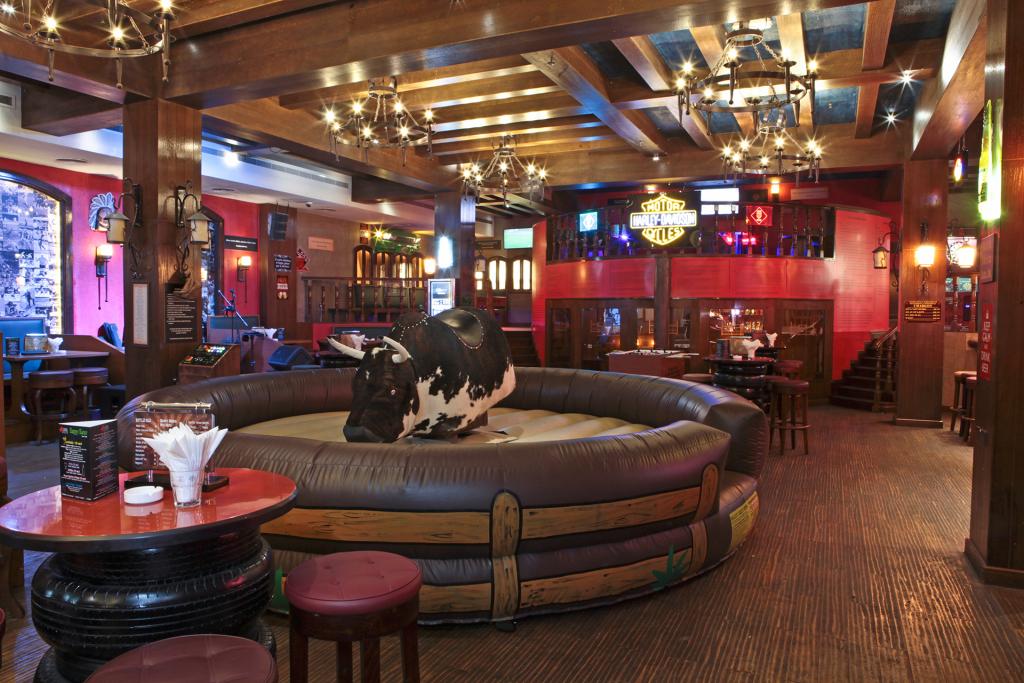 21. Barrels Sports Arena Bar in Dubai
Barrels Sports Arena, located in the Majestic City Retreat Hotel, is another top-notch sports bar in Dubai. They're well-known for their welcoming atmosphere and high-quality service.
It is rather cozy, large, and pleasant. The widescreen TVs are well-lit, and the audio quality is decent, even on busy weekend nights. The quality of the broadcasts is excellent for sports. However, those interested in watching cricket may want to go elsewhere since we were informed that they did not carry the sport.
Location: Majestic City Retreat Hotel – Al Mankhool Rd – Al Mankhool – Dubai
Timing: 12 PM–3 AM
22. Phileas Fogg sports bar in Dubai
Even if you don't follow football, you should still spend your Sunday afternoon at Phileas Fogg. All the major games will have an epic atmosphere at this massive facility, which has a restaurant, sports tavern, garden, and theater and can hold up to a thousand people at once.
If your club has a Sunday game in Dubai, you're lucky since they also serve one of the city's greatest roast dinners. Moreover, this club is among the best nightclubs in Dubai.
Location: Montgomerie Golf Academy, Emirates Hills
Timing: 8 AM–2:30 AM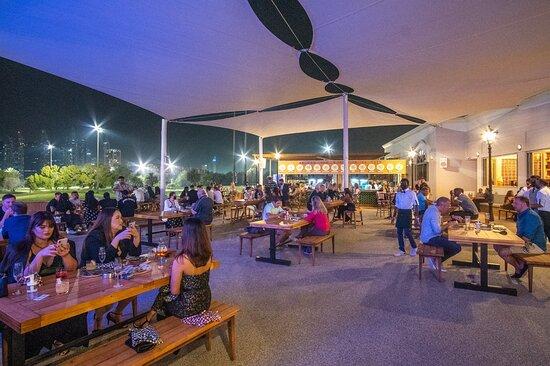 23. Amsterdam sports bar in Dubai
If you want to watch the game in style while in Dubai, go to this sports bar in JBR. There are barrels set up as tables, creating a warm and inviting atmosphere.
Even though they screen other sports, you can stumble across a football game at this peculiar JBR bar. Take a break from the excitement on one of the screens and play pool or darts at this sports bar in Dubai.
Location: Al Mamsha St – Jumeirah Beach Residence – Dubai
Timing: 12 PM–2 AM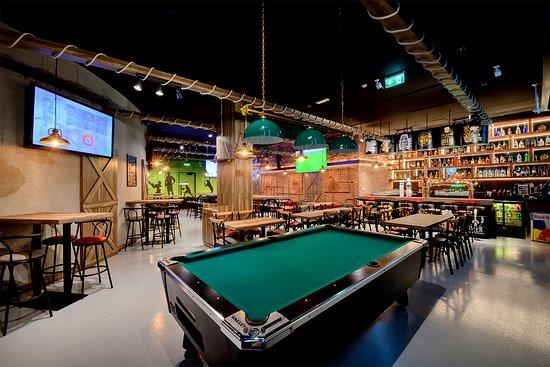 24. Barrel 12 sports bar in Dubai
You can find this pub with an industrial motif at the very top of Palm Jumeirah, just before the tunnel that takes you to Atlantis. It has a bunch of huge screens so you can see every exciting moment, as well as some great pub grub and deals.
If you're looking for a wonderful place to watch a game while enjoying a drink in Dubai, go no further than this place, which has seven enormous TV screens and breathtaking views of the Palm Marina East.
Location: Palm View East, Palm Jumeirah – Dubai
Timing: 12 PM–2 AM
25. Nezesaussi Grill sports bar in Dubai
Along with neat wooden furniture and sports memorabilia on the walls, this restaurant serves some of the best burgers in town. That's why this sports bar in Downtown Dubai is dedicated to the sport of rugby.
This pub is great for watching a game in Downtown Dubai since it has a more relaxed and kid-friendly vibe than the other places we recommend. You may not know this, but the unique name really refers to three countries: Australia, South Africa, and New Zealand. Dubai Marina is home to a Nezesaussi Grill.
Location: Manzil Downtown – Sheikh Mohammed bin Rashid Blvd
Timing: 12 PM–2 AM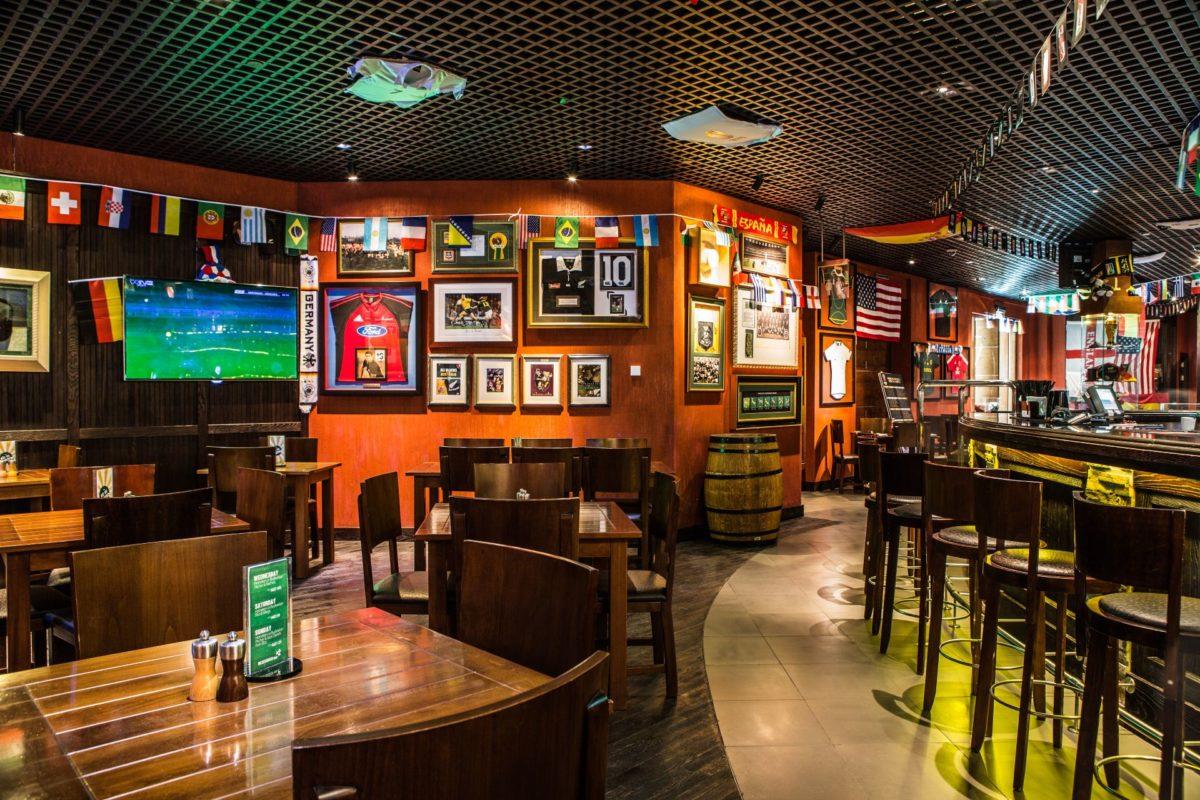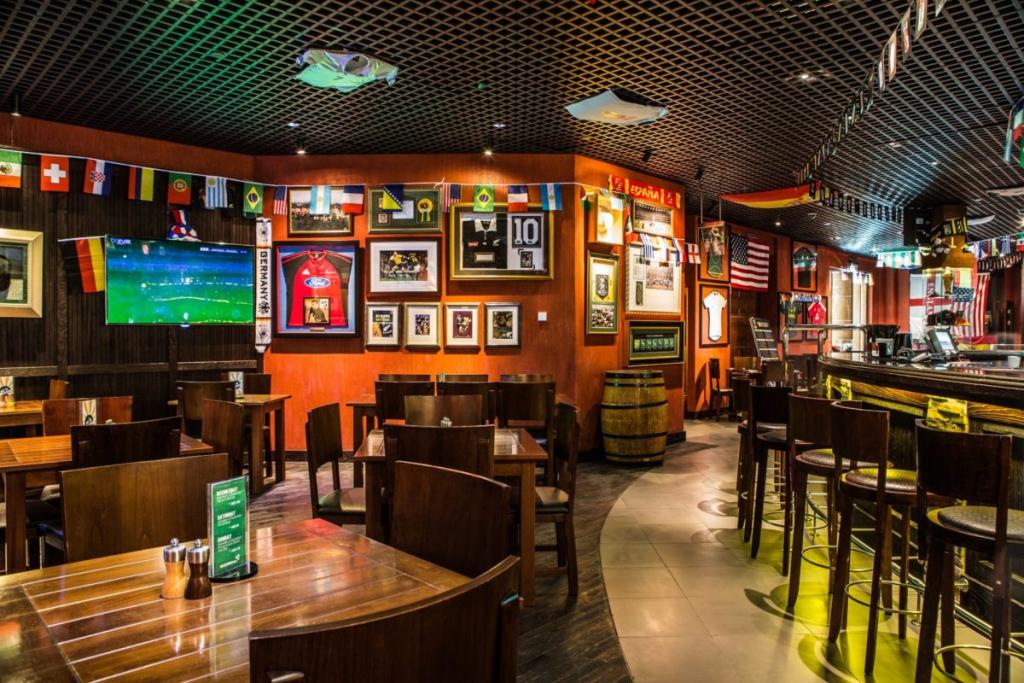 26. Stars n sports bar in Dubai
One of the newest sports bars in Dubai, Stars n Bars, can be found in the picturesque La Mer beachside neighborhood. Due to its high-concept wall art and laid-back vibe, this American sports bar is quickly gaining a following in Dubai and at its original site on Yas Island.
Large screens, gaming consoles, pinball machines, and foosball tables make Stars n Bars a great spot to watch the game and socialize with friends. While you are in there, don't miss the chance to see the best cafes & restaurants in La Mer Dubai.
Location: La Mer North – 15 A Street – Jumeirah – Jumeirah 1 – Dubai
Timing: 12 PM–3 AM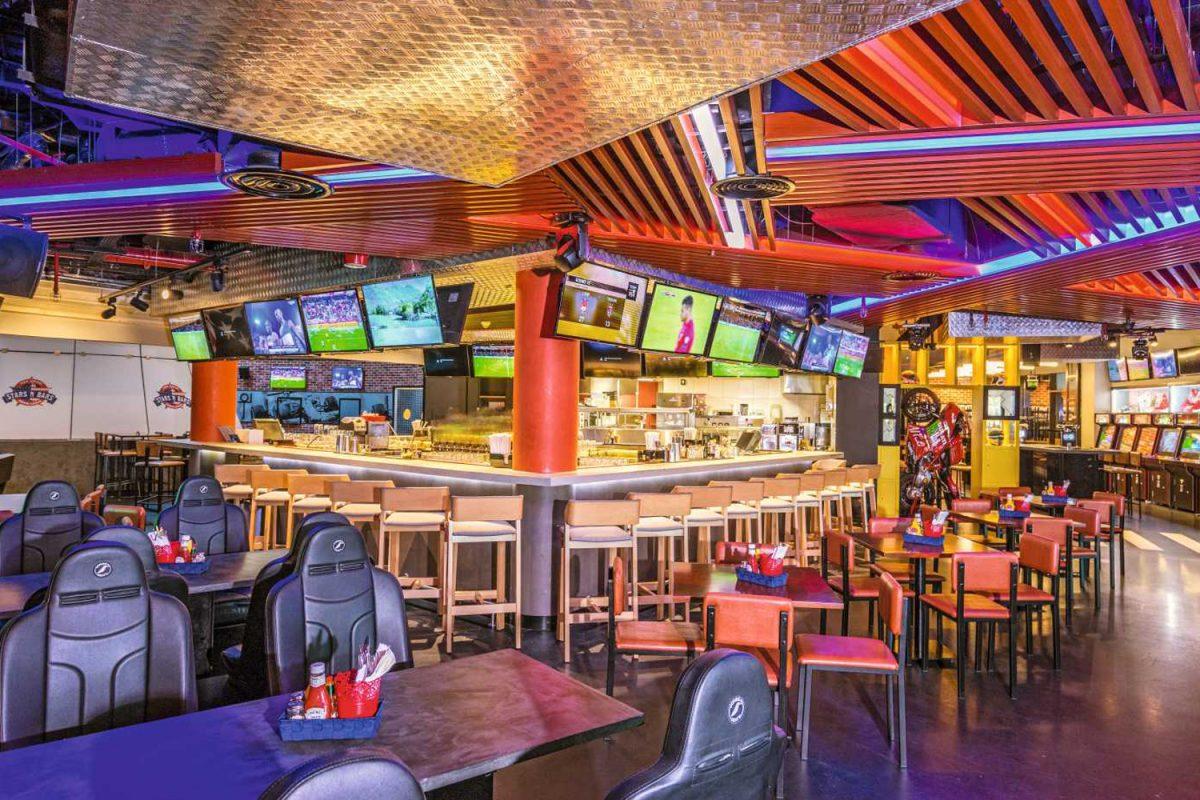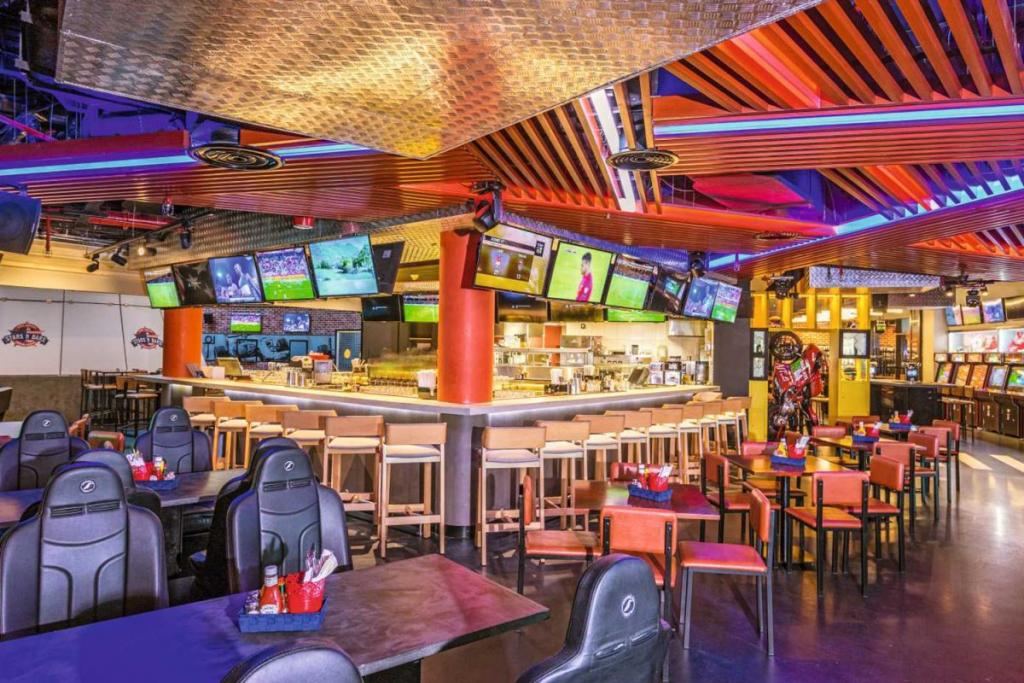 27. The Rose and Crown sports bar in Dubai
If you're looking for an authentic British sports bar in Dubai to watch the English Premier League, go no further than The Rose and Crown. Ex-pats from the United Kingdom who are homesick for the pubs in their former communities should make the trip to try the local beers and relive some of their favorite pub memories.
There are plenty of pool tables, dart boards, and large screens showing live sports to keep patrons entertained at this British pub in Dubai.
Location: Al Habtoor City – 260 Sheikh Zayed Rd, The Atrium – Sheikh Zayed Rd
Timing: 12 PM–3 AM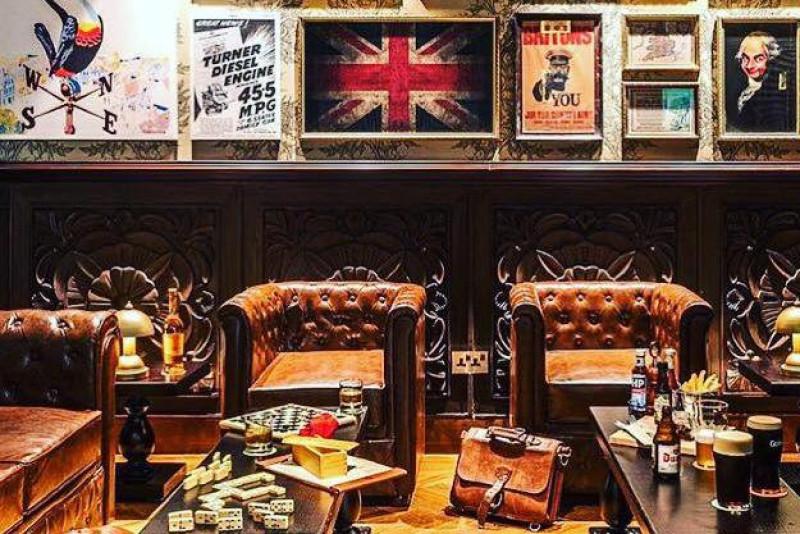 28. Fisherman's sports bar in Dubai
This Bur Dubai British pub, part of the Arabian Courtyard Hotel & Spa, is a popular hangout for sports lovers. Nearby is the Al Fahidi Historical District. This sports bar in Dubai is the place to go if you want to eat delicious pub food while watching the finest matches of the year on huge screens.
If you are a fan of seafood cuisine, then never miss the chance to visit the top seafood restaurants in Dubai.
Location: Meena Bazar bur Dubai opposite Dubai Museum – Dubai
Timing: 12 PM–3 AM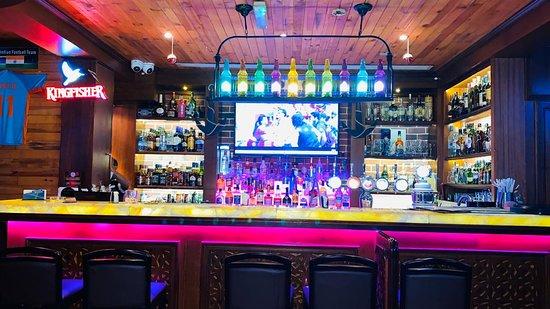 29. Qube sports bar in Dubai
In line with Dubai's global reputation for grandeur, the Qube Sports Bar in Meydan offers the most luxurious experience for watching the game. This sports pub cut because of its centrally located cube-shaped screen, which broadcasts the game from every imaginable angle.
In addition to the stage, this Dubai bar has several additional televisions, dart boards, pool tables, and other games to keep you occupied after the show.
Location: G 11, Meydan Hotel, Al Meydan Street, Nad Al Sheba – Dubai
Timing: 12 PM–1 AM
30. Bidi Bondi sports bar in Dubai
Bidi Bondi is a true representation of a lively Australian sports bar. On the beach level of the Palm's Shoreline Apartments, Bidi Bondi's has several large, wall-enveloping projectors and a dozen or more additional TV screens that swarm about the center, four-sided bar.
Simple pleasures are pretty much the same as watching rugby at this sports bar in Palm Jumeirah. For all the friendly competition and playful ribbing, this is a great location to hang out and have a good time.
Location: Sports Village – Dubai Sports City – Dubai – United Arab Emirates
Timing: 12 PM–12 AM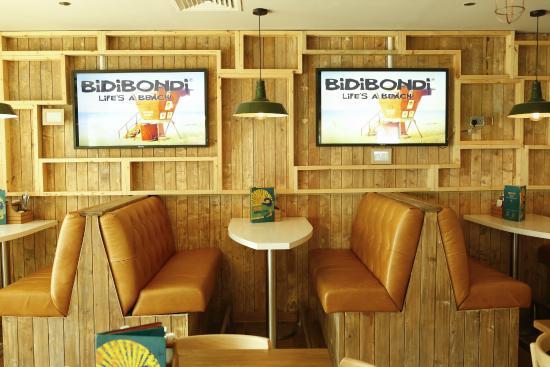 31. Offside sports bar in Dubai
Offside is Dubai's best sports pub, with a huge, eye-popping screen at the end of its top terrace bar. It's a relatively new addition to the JBR nightlife.
Here, you can get a nice pint for a reasonable price and relax with some delicious BBQ while straining your neck to see any of the flat screens along the bar.
Location: JA Ocean View Hotel – The Walk – Jumeirah Beach Residence
Timing: 12 PM–3 AM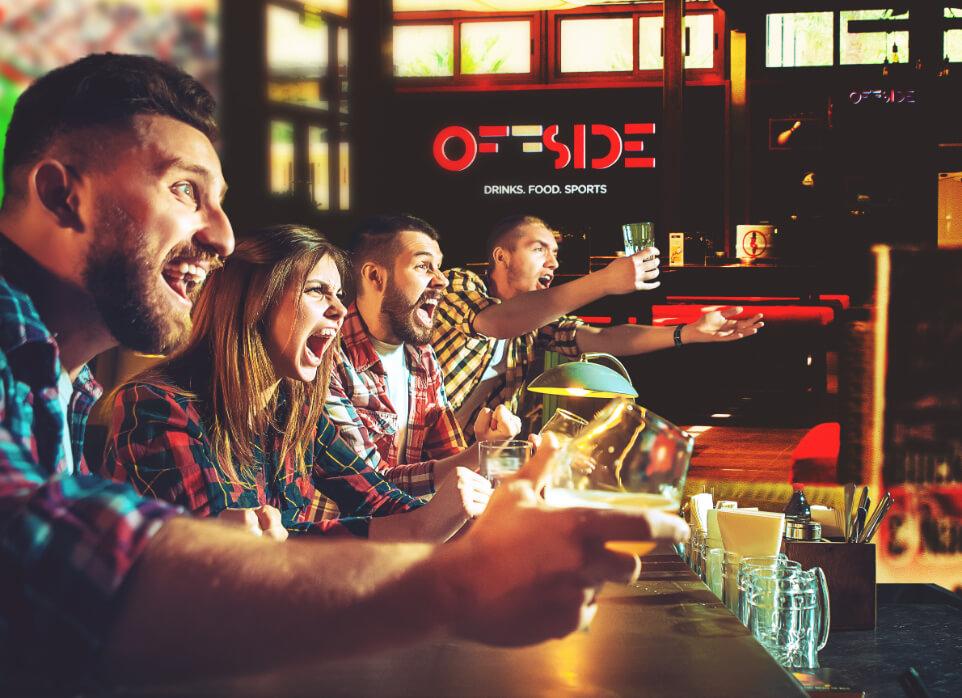 32. Garden on 8 sports bar in Dubai
Garden on 8 is one of Dubai's largest hops gardens, replete with dozens of picnic tables and plenty of screens broadcasting all the major games. Its lively terrace creates a wonderful environment on game days.
You can always find something to eat and drink in a bar or restaurant near the stadium, whether you're looking for gourmet concessions like sweet potato fries and popcorn chicken, or you're in the market for heartier pub fare and regular drinks specials. If you and your friends wish to watch the game in peace, reserve a table in advance.
Location: Media One – Al Sufouh – Dubai Media City
Timing: 12 PM–1 AM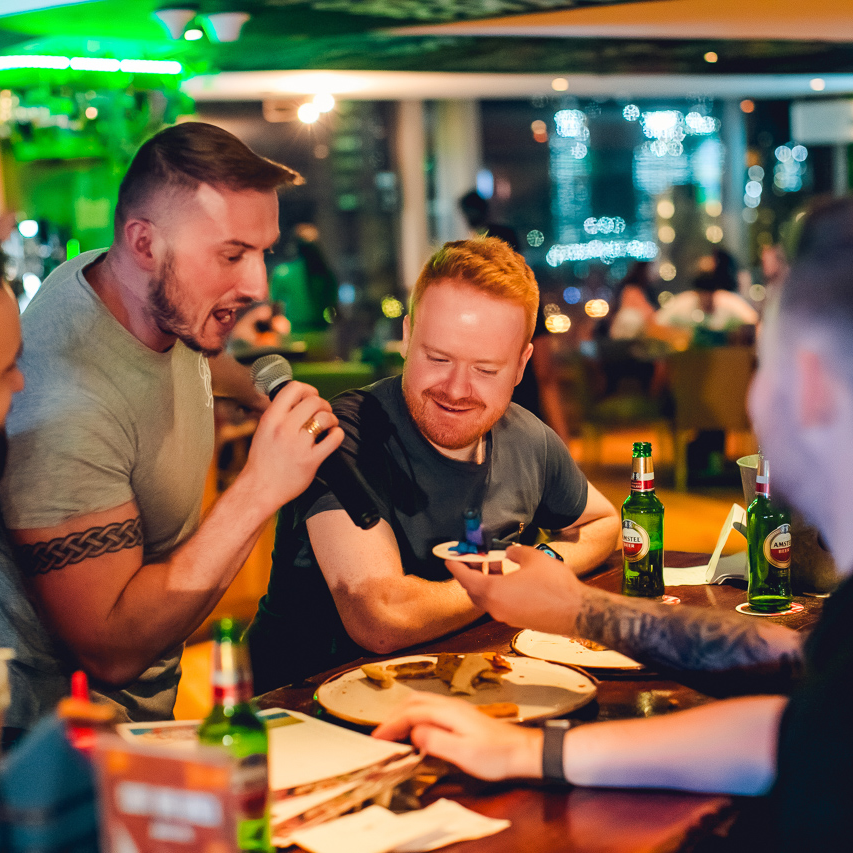 33. Brooklyn sports bar in Dubai
Brooklyn Pub is a great sports bar in Dubai that doesn't overcharge for showing the World Cup on TV and has a wide selection of beers on tap, not just the hipster favorites.
There are a ton of TVs about the trendy SoHo neighborhood of New York City, plus a pool table and dart board for active spectators who want to get in on the action. The daily happy hour from 2 to 9 will seal the deal if you're still hesitant.
Location: Elite Byblos Hotel, Al Barsha
Timing: 12 PM–3 AM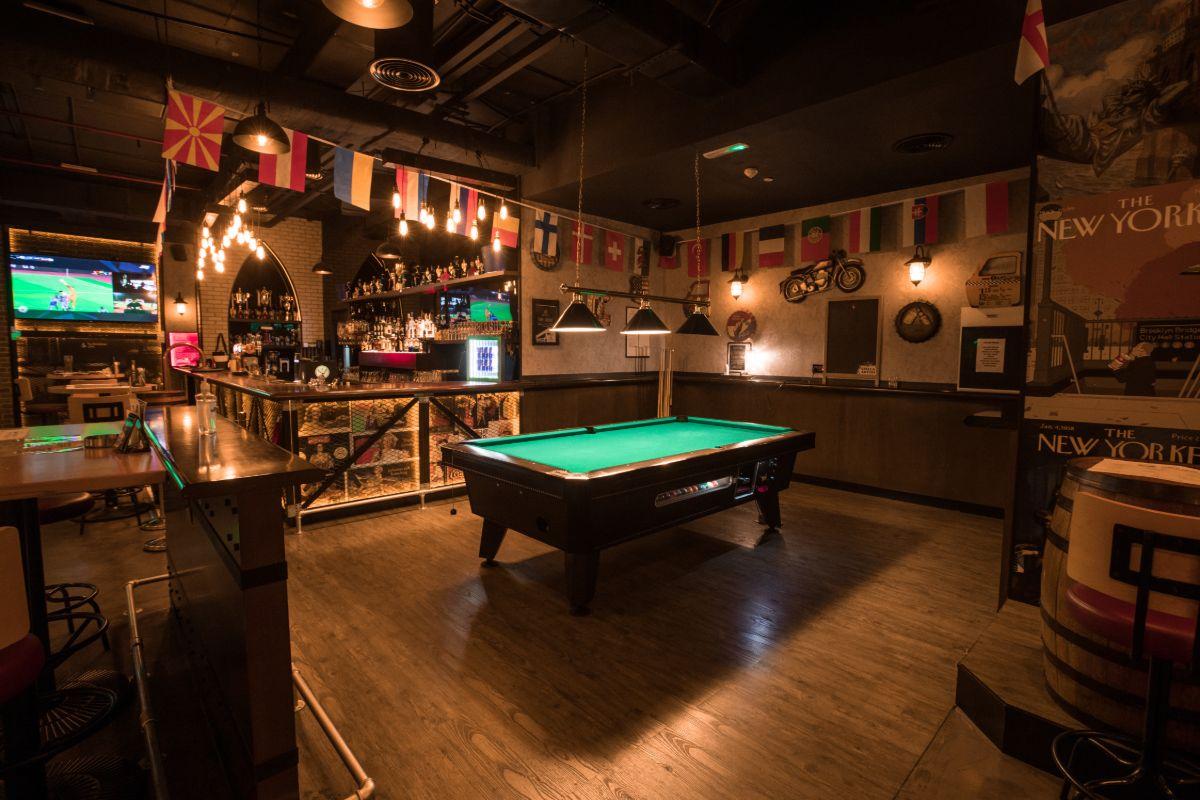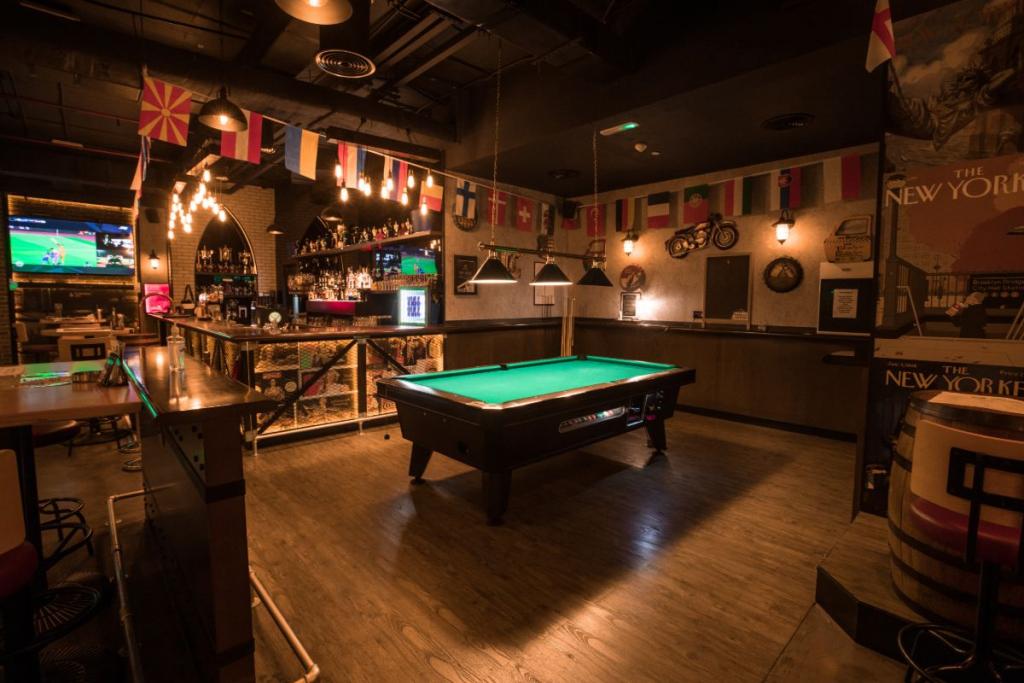 34. Goose Island Tap House sports bar in Dubai
We don't think of Goose Island Tap House as a sports bar but rather as a pub that shows sporting events. Several high-definition televisions show all the main events, and the bar deserves praise for its excellent selection of draft beers (14 of them, to be exact).
One of the greatest places to watch sports in town, it also has a golf simulator and many pool tables for added sporting excitement.
Location: FIVE Jumeirah Village
Timing: 12 PM–3 AM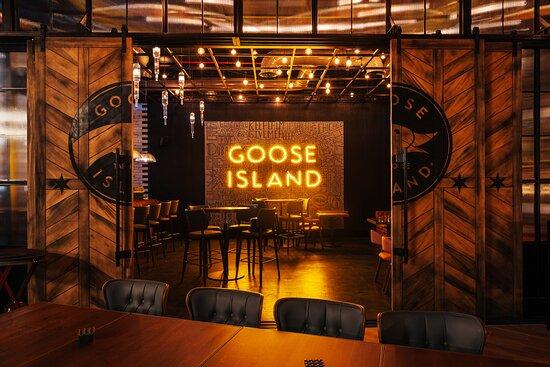 35. Long's sports bar in Dubai
Long's Bar is a one-of-a-kind spot to watch live coverage of big sports events. It's a classic British pub with many televisions for your enjoyment.
Visit one of their special evenings, such as Gentleman's Nights, and you may choose from a wide variety of alcoholic drinks at affordable pricing. In our opinion, this also makes them a great place to have a drink after work. You can get some good eats here, including crowd-pleasers like burgers and wings. Sadly, there aren't many alternatives for vegetarians.
Location: Sheikh Zayed Rd – Trade Centre – Trade Centre 1
Timing: 12 PM–3 AM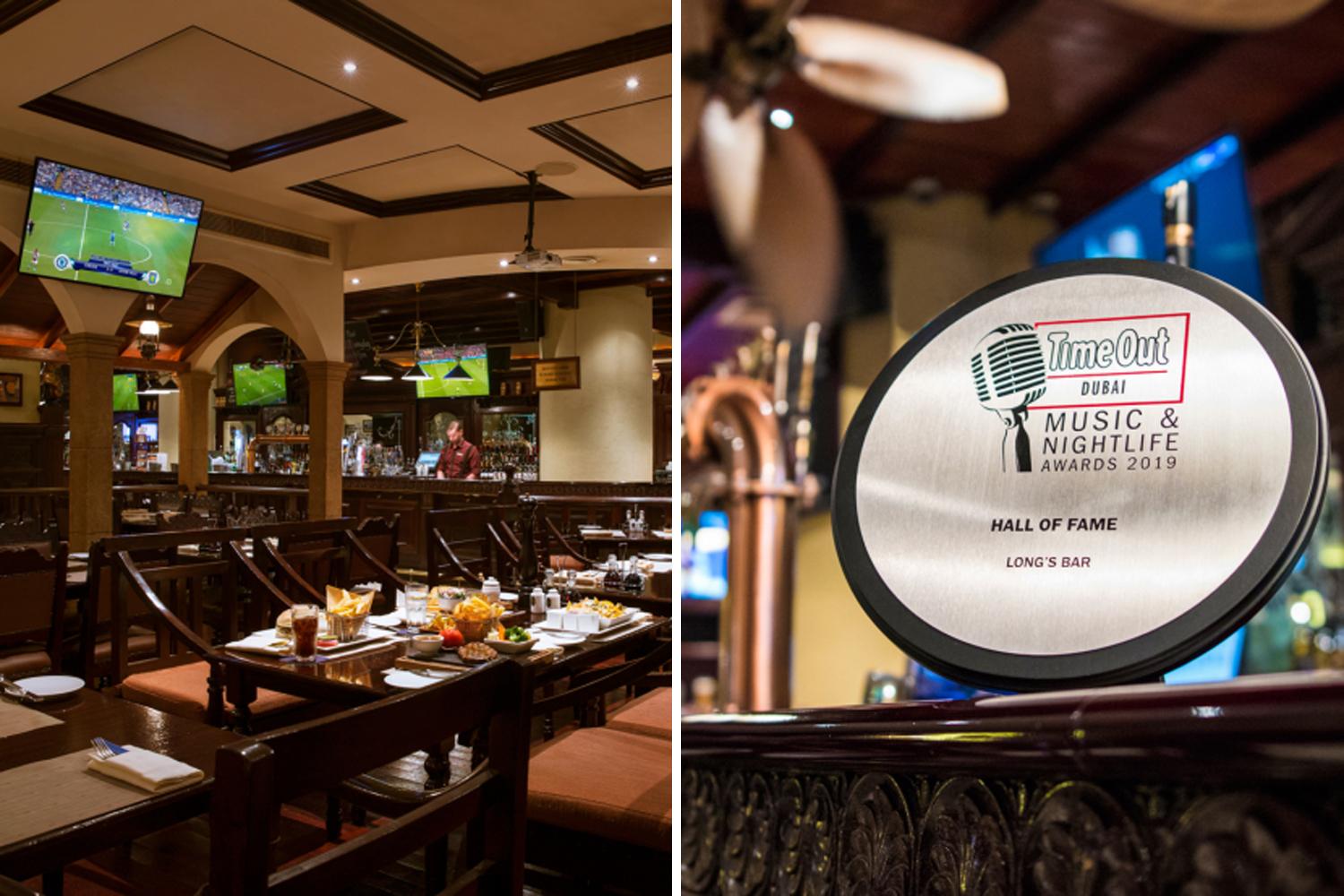 Where are the Best Sports Bars in Dubai?
That wraps up our picks for the best sports bars in Dubai. The United Arab Emirates has become a major venue for international athletic competitions. The DP World Tour Championship Dubai, the Emirates Airline Dubai Rugby Sevens, and the Dubai World Cup are just a few of the many sporting events that take place in Dubai.
Ultimately, it's up to personal taste, but be assured that whichever option you choose will be fantastic fun for you and your loved ones.
In addition, many individuals nowadays prefer to make Dubai their permanent home. In fact, most people choose to לקנות בית בדובאי. We recommend נדל"ן אל חייל for those in this category. Numerous individuals turn to this company for assistance in locating their ideal home.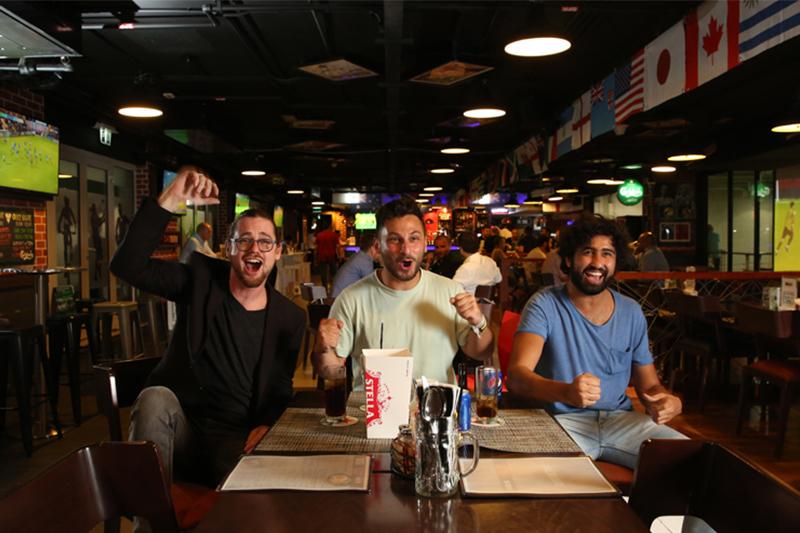 שאלות נפוצות
Let's answer some of the most frequently asked questions:
What makes a sports bar different from a pub?
Pubs and restaurants may seem identical at first glance, but pubs often provide a more laid-back environment and heartier fare. Also, some bars will provide food to kids, but only if an adult accompanies them. In most cases, underage people are not permitted in bars.
Do sports bars just provide the options of drinking, eating, and watching?
A sports bar could have a concert or quiz night with a sports-related theme. There's a chance they also host Fantasy Football tournaments for their members. Aside from that, they could contain standard features like pool tables and dart boards. You may even find arcade games at certain sports pubs.